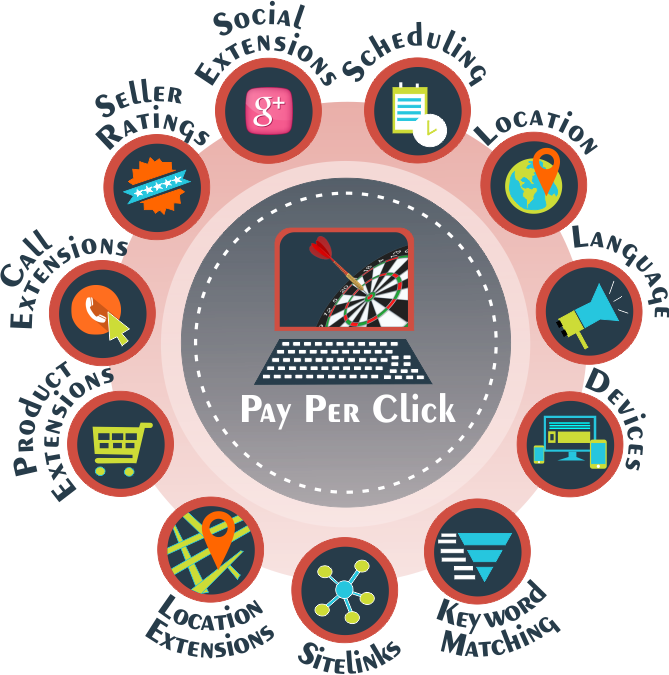 PPC Marketing
We follow the current market strategies and helps to provide you a campaign that suits your need and target your audience. Our pay per click or you can say google adwords service includes Search Ads, Video Advertising, Display Ads, PPC Remarketing, and Social Advertising.
We are the leading Pay Per Click service provider in Delhi and we maintain our client campaign on daily basis, maintain your bid prices and budgets to gets maximum ROI with focusing every criteria that suits your business like location, audience, Languages and keywords according to the geography and area of your business. We even helps you to do re- marketing of your business with the help of google adwords. 
Video Advertising
Our expert helps you to create video adwords that increase the traffic and helps you to be more presentable in your audience .
PPC Remarketing
Our expert Re-engage your potential customer into the real customer with the help of PPC remarketing
Social Advertising
Helps to increase your brand awareness via social media advertisement that helps to improve your business performance and maintain your KPIs higher.
Display Advertising
A product or service is sold if look better and our expert makes display ads with good quality images that help to engage the audience.
Social Advertising Projects
Successful PPC Remarketings
Successful PPC Remarketings
Our team services a diverse global portfolio to increase sales and conversion rates. Here is a small selection of the clients that we represent on a daily basis.
Tell us about your project
Let us help you get your business online and grow it with passion
Huck up the full utilization of the open-source frameworks, contact us and get a suitable and easily content manageable website that suits exactly your business works needs and requirements.